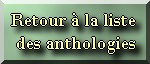 Genre : horreur/paranormal
Éditeur original : HarperCollins
Date de sortie - États-Unis : 1 septembre 2020
Nombre de pages - États-Unis : 416

Dirigée par Jonathan Maberry et The horror Writers association
 
Résumé :

    Cette anthologie d'horreur de niveau intermédiaire, organisée par l'auteur à succès du New York Times et maître du macabre Jonathan Maberry, est un terrifiant hommage aux histoires effrayantes d'Alvin Schwartz* à raconter dans le noir.
   Des ogres avides de chair ? Des cerveaux pleins d'araignées ? Des maisons hantées auxquelles vous ne pouvez pas échapper ?
   Cette collection de 35 histoires terrifiantes de la Horror Writers Association a tout pour plaire, y compris d'horribles illustrations d'Iris Compiet qui vont refroidir les lecteurs jusqu'aux os.
   Alors éteignez les lumières, allumez vos lampes de poche et préparez-vous - si vous l'osez - à être totalement effrayé ! 
Auteurs présents dans cette anthologie :
-Linda D. Addison
-Courtney Alameda
-Jonathan Auxier
-Gary A. Braunbeck
-Z Brewer
-Aric Cushing
-John Dixon
-Tananarive Due
-Jamie Ford
-Kami Garcia
-Christopher Golden
-Tonya Hurley
-Catherine Jordan
-Sherrilyn Kenyon
-Alethea Kontis
-N.R. Lambert
-Laurent Linn
-Amy Lukavics
-Barry Lyga
-D.J. MacHale
-Josh Malerman
-James A. Moore
-Michael Northrop
-Micol Ostow
-Joanna Parypinksi
-Brendan Reichs
-Madeleine Roux
-R.L. Stine
-Margaret Stohl
-Gaby Triana
-Luis Alberto Urrea
-Rosario Urrea
-Kim Ventrella
-Sheri White
-T.J. Wooldridge
-Brenna Yovanoff
---
*Alvin Schwartz (1927-1992) :  journaliste et auteur spécialisé dans le folklore. Il a écrit de nombreux ouvrages, majoritairement à destination du jeune public, et est surtout connu pour sa série "Scary Stories To tell In The Dark".
---
Texte original © HarperCollins
Traduction © Dark-Hunter Francophone