----- Présentation de la série "Sea Wolves"
----- Retour à la liste des personnages de la série "Sea Wolves"
---
 
"A votre santé, moussaillons. Yo ho !"


---
Nom : Morgan Drake
Surnom : The Sea Wolf
Travail : Pirate / Corsaire

Cheveux : Noirs
Constitution : Musclé

Compagne :  Serenity
Meilleur ami : Black Jack

 Lisez son histoire :
Sea Wolves #2 - A Pirate of her Own

Autrefois connu comme  le célèbre pirate appelé Sea Wolf (Loup de Mer), le Capitaine Morgan Drake a juré de libérer les marins américains injustement contraint par la marine britannique.

Il fait de grands progrès jusqu'à ce qu'une journaliste curieuse commence à révéler son passé et menace ses efforts.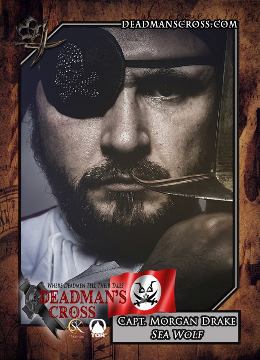 ---
Texte original © Sherrilyn Kenyon
Traduction © Dark-Hunter Francophone